What is it like to be a Granitian?
We know, many of them are unheard of, but they're all real.
Crystal clear human values
Friendly atmosphere - every person is treated equally, and people respect each others opinions.
Motivation to work for the better, or even utopian future, and not for purely shareholders' capital gains. To learn more, see Granite Devices mission and values defined by the shareholders (who are 100% employees by the way).
Generously space and time to develop skills
Enjoy building long, upwards heading, and stable career at Granite. Loyalty works both ways in here.
Comfortable working conditions
Flexible remote working - even after COVID-19
Flexible working hours. I.e., short notice-free days are generally accepted. For example, if one wishes to spend a beautiful day outdoors, there is no unnecessary resistance.
Spacey office with plenty of "old school" workrooms. No cubicles or noisy open workspaces!
Ergonomic workstations with electric stand-up desks, premium PC's and Hi-Fi noise cancelling headphones
Employee well being
Paid mid-day refreshment break. Walk in the nearby park for 30 minutes during your workday, get a nap, or maybe meditate, and get paid for it!
E-bike advantage - the company pays an e-bike as a bonus on top of salary.
Items to borrow, such as premium e-fat bike and SUP boards
Free refreshments beverages, coffee, tea and snacks available
Get money credit to be spent on your activities (Smartum)
Maximum level free health care service for everyone
Your second family
Be an influencer. Attend to weekly Friday's relaxed gathering where everyone gets to share their thoughts and influence on how we tick.
Enjoy quality time at various events, such as summer events at luxurious lakeside cabins with Saunas and delicious food. Not to forget food-friday events at office.
Enjoy your free time with awesome people at office any time. I.e. race with in-house racing simulators.
Use professional tools and 3D printers for your hobby/DIY projects
Bonus from a good year
Annual rewards from hard and successful work
As 2020 was a great success, Granite Devices rewarded its employees with a one-week extra vacation. This aligns with our human values and understanding that time is the most sacred resource in life.
Dudes, are you crazy?
Yeah, sort of.
We believe that such conditions should be de facto standard for all human beings. We're just building our piece of the world the way we think is the right way. So far it has served us very well.
Granite Devices shareholders (who, by the way, are employees) also believe that only the companies who respect their employees as real human beings, are the ones to thrive in the 22nd century.
Nested in Tampere
Granite Devices is proudly located in Tampere, Finland. A city that has been built between two large lakes has 245 000 inhabitants, universities and beautiful clean nature.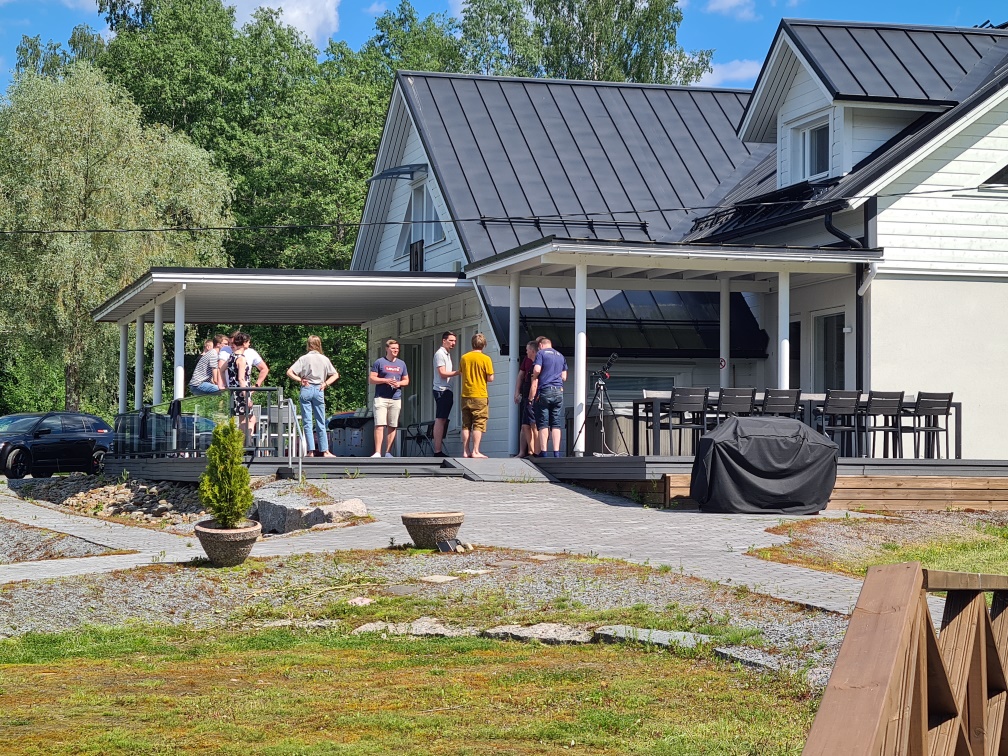 A story from spring cottage event Psycon's group exercise in June 2021:
"For me it felt that I bumped into a family reunion, when I met Granite Devices' personnel/people – and don't get me wrong, I don't mean only pastry smelling and joyful atmosphere. What I was amazed by, was the authenticity – people really behave, express their selves and face each other's in truly genuine, straightforward but respectful way. People in Granite Device want to understand, learn, and exploit their differences, strengths, and diverse backgrounds. Despite the strong cheer of diversity, there is one clear thing they all are united – an outstanding passion for their work and community."
Reetta Kiukainen, Development Consultant, Psycon Corporation
Interested of joining the Granite family?