IONICUBE drive motherboards
IONICUBEs are motherboards for IONI drives enabling effortless installation of IONI drives. Build multiaxis motion control systems with 1 to 32 IONI drives by chaining IONICUBE motherboards.
IONICUBEs come in different variations designed for several kinds of applications from single axis systems to large multiaxis machines. Also IONICUBE schematics are provided to help customer made designs.
Assemble multiaxis drive in minutes
No matter which kind of motors you throw at it, the same solution will (almost) always suit.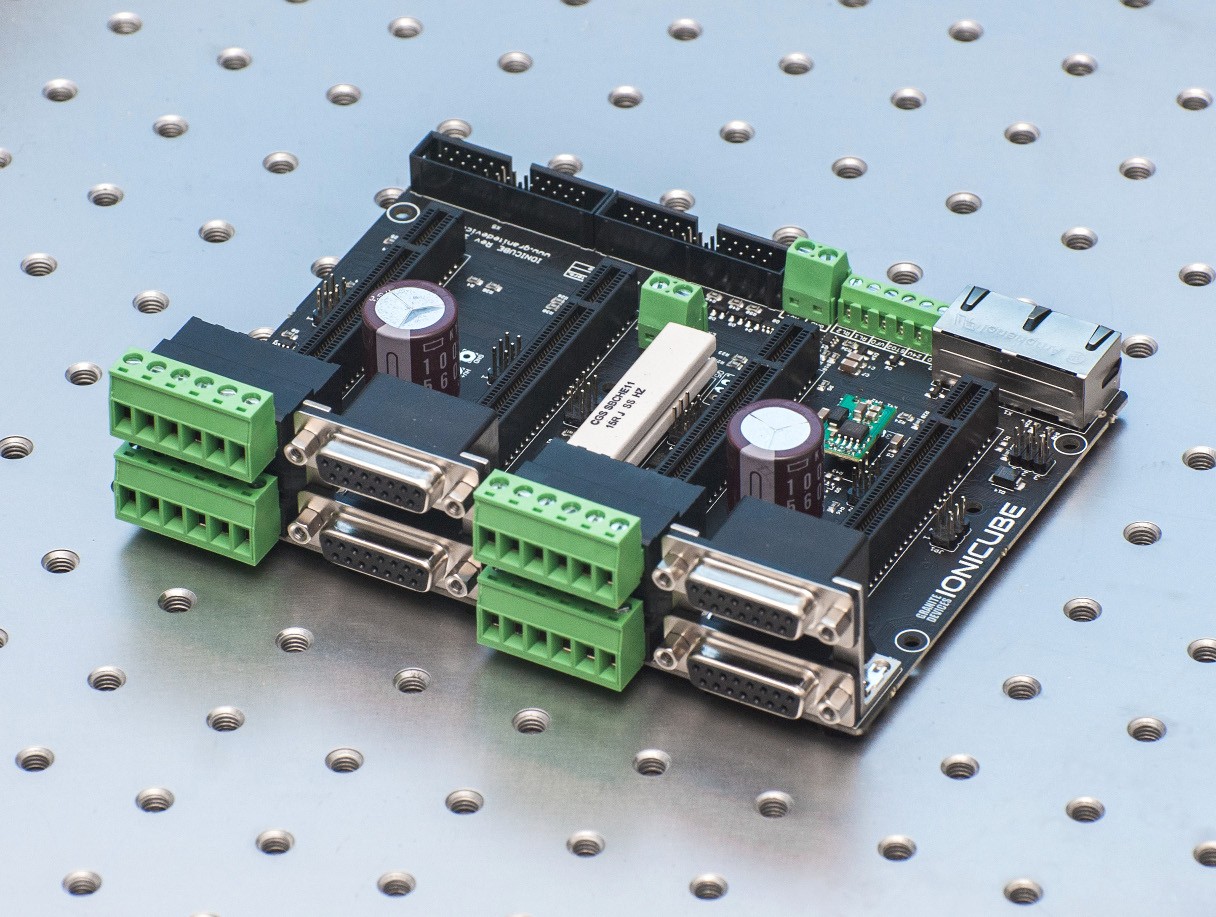 Build low cost multiaxis systems
Chain IONICUBE motherboards to form 1 to 32 axis systems. Install them centralized or distributed to near motors.
Save your time and focus on the stuff that matters
Handy on-board features, such as on-board regenerative resistor, and motherboards' well thought connector layouts, will save plenty of your valuable time.
Kickstart to your own design
One way to use IONICUBE is to use it merely as development platform for your application specific board design. IONICUBE motherboards are open design, and you can grab their schematics right here.
Details
IONICUBE
IONICUBE 1X

SimuCUBE

Axis (chain limit)

4 (32)
1 (32)
1 (1)
Typical applications


CNC
3D printers
Robotics
Automation

Distributed motion control
Robotics
Automation

Vehicle or equipment simulators

Logic power supply requirement

24 V

Model specific:

IONICUBE 1X
IONICUBE 1X WIDE

10-55 V (uses motor supply)

None
Motor power supply

10 - 55 V
10 - 55 V
10 - 50 V
Regenerative resistor

On-board + connector for external
Connector for external
On-board
Application specific I/O


Standard 25 pin PC CNC parallel interface
PWM to 0-10 V analog output (VFD)
Two relay driver outputs

All IONI drive I/O's on user connector

Push button inputs (14 pcs)
0-3.3 V Analog inputs (10 pcs)
USB (SimpleMotion & USB HID)
Load cell input extension (up to 6 pcs)
Bluetooth I/O extension

Dimensions (with IONI drives)

153.5 × 120 × 43.5 mm
87 × 59 × 43.5 mm
160 × 87.5 × 43.5 mm
Warranty
24 months
24 months
24 months
Find all the resources you need from the Granite Devices Wiki
Have a long term demand? Ask for a quote!